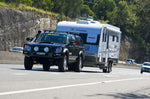 An Introduction to Electric Brake Controllers
When you are towing a caravan for the first time, safety is one of the most important things to
consider. Therefore, electric brake controllers are an absolute must.
All trailers and caravans with a 750kgs GTM or more must be fitted with brakes. Electric brakes are
the most common and require a brake controller with connections to the trailer fitted in the tow
vehicle.
What are electric brake controllers?
An electric brake controller is a device that is installed in your vehicle and activates the brakes of
your caravan when the towing vehicle's brakes are applied.
Why do you need electric brake controllers?
When you are towing a caravan or trailer, you carry along lot's of extra weight, which can make slowing down or stopping your tow vehicle dangerous under some circumstances.
When you have your electric brake controllers applied, you eliminate the chance of your caravan or trailer being smashing into your towing vehicle or causing a sway, as the brake controllers activate
the caravan's brakes whenever you brake with your towing vehicle.

How do electric brake controllers work?
The electric brake controller senses how much pressure is needed to slow down and stop your caravan. So if you all of a sudden push the brakes hard on your towing vehicle, the brake controller will activate the caravan's breaks just as hard.
Fitting an electric brake controller to your towing vehicle.
We at www.electricbrakes.com.au make fitting an electric brake controller easy. We offer the simplest and most reliable portable solution to electric brakes, perfect for the avid camper on a budget that is looking for a simple and practical solution to electric braking. With easy setup instructions, simple plug and play configuration and immaculate attention to detail, this is all you need to tow your caravan around Australia.
Keep in mind that for caravans that have a GTM over 2,000kgs, you must fit a system that applies brakes to every wheel with a 'break-away' function, which automatically applies the brakes to the caravan, keeping the brakes powered for a minimum of 15 minutes if it becomes detached from the car.

Hopefully, we have given you a better insight into the use of electric brake controllers. Long story short, a brake controller is a fairly small investment, that will keep you and your family safer when you are towing a caravan.
All you want is enjoy your trip, and a caravan that is just cruising steadily along behind your car without humping, thumping or swaying.
Let us know if you have any questions about electric brake controllers, we are happy to help.